Rockford Mortgage Lenders
Rockford Office
8492 East State Street
Rockford, IL 61108-2734
815-332-8848
Apply Now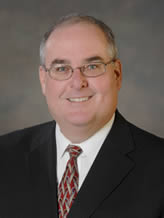 Patrick J. O'Gorman
NMLS No. 468516
Patrick serves as Senior Vice President of Residential Mortgage Lending. He has over 30 years of experience in banking and has specialized in mortgage lending since 1992. A native of Kankakee, Illinois, Patrick is a graduate of Eastern Illinois University and is proud to call the Rockford area his home since 1981.

Giving back to the community where he lives and works is important to him. Patrick has been involved with many local non-profit and charitable organizations. He is currently a member and past president of the Rockford East/Cherry Valley Rotary Club. He is a past board member and past president of HomeStart (formerly the Rockford Area Affordable Housing Coalition), past board member and president of the Rockford Area Habitat for Humanity, and past board member and treasurer of the Homebuilders Association of Greater Rockford. Over the years, Patrick has also been on various committees of the Rockford Area Realtors Association.
Wendy S. Scharer
NMLS No. 2075378
Wendy serves as a Mortgage Lender and Retail Bank Manager in our Rockford office. Scharer has over six years of mortgage lending experience and over 12 years of leadership management in client services. She enjoys offering her customers excellent, professional support while guiding them through the mortgage process.

A lifelong Northern Illinois resident, Wendy has called several local communities her home. She grew up in Belvidere, lived in the Stillman Valley area for 20 years, and currently resides in Roscoe. Outside of the workplace, Scharer has been involved in various school and community organizations. She has three children and four grandchildren.
Diana S. Davidson
NMLS No. 746408
Diana brings more than 23 years of banking experience to her role as Mortgage Lender in our Rockford office. Diana earned her Associate's Degree in Business Management from Kishwaukee College. She also attended Financial Management school at UW Madison where she earned an executive financial certification. Diana formerly served as the Community Projects Coordinator for Ogle County and was once the Executive Director of Foundation for Focus House.

Born and raised in Rochelle, Diana currently lives in Stillman Valley with her husband and two children. She is actively involved with their sports and activities through the Meridian School District and serves as a team mom.