Rockford Mortgage Lenders
Rockford Office
8492 East State Street
Rockford, IL 61108-2734
815-332-8848
Apply Now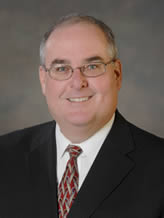 Patrick J. O'Gorman
NMLS No. 468516
Patrick serves as Senior Vice President of Residential Mortgage Lending. He has over 25 years of experience in banking and has specialized in mortgage lending since 1992. A native of Kankakee, Illinois, Patrick is a graduate of Eastern Illinois University and is proud to call Rockford his home since 1981.

Giving back to the community where he lives and works is important to him. Patrick has been involved with many local non-profit and charitable organizations. He is currently a member and past president of the Rockford East/Cherry Valley Rotary Club. He is a past board member and past president of HomeStart (formerly the Rockford Area Affordable Housing Coalition), past board member and president of the Rockford Area Habitat for Humanity, and past board member and treasurer of the Homebuilders Association of Greater Rockford. Over the years, Patrick has also been on various committees of the Rockford Area Realtors Association.
Robin Lee Palmer
NMLS No. 435817
Robin brings more than 20 years of mortgage experience to her role as Mortgage Loan Originator in our Rockford Office. Robin is dedicated to finding the ideal mortgage program for each of her customers and providing open and thorough communication throughout the entire mortgage process.

Robin and her family have been part of the Rockford community for over 30 years. In the past she has been very involved with her children's activities. She has volunteered with Awana Youth Programs and Pioneer Girls through her church and has also participated in productions for the Milwaukee Theater and Starlight Theater (including Splendor and Majesty and The Wonders of Christmas). She is a member of and active in the local Chambers of Commerce and has also taught financial classes to the local middle schools. In her spare time she enjoys traveling, music and cooking.