Community Involvement
As a local community bank, we are committed to supporting the communities we serve throughout Ogle, Winnebago, and Boone Counties. That is why you'll see us getting involved and actively supporting a variety of area organizations, agencies, activities and events. We strive both as a bank and as individuals to do our part to help make our communities better places to live and work—and that benefits all of us!
At our core, we are a local bank sharing the narrative we have been promoting for over 138 years: the importance of bringing the "community" to community banking.
Stillman Bank Employees Awarded For Their Generosity
Stillman Bank is honored to receive the 2019 Award of Distinction from the United Way. This award is given to the organization that has a high employee pledge participation in their workplace as well a total contribution of more than $10,000 during that year's campaign.

Stillman Bank graciously donated $16,473.11 to United Way in 2018. This monetary gift came from a variety of bank-wide initiatives including Carnation Day, Casual Days, individual employee donations and a corporate contribution. Over the past 20+ years, Stillman Bank and its employees have contributed over $350,000 to United Way.
47,000+ Pounds of Paper Recycled At Annual Shred Days
Stillman Bank is proud to sponsor two annual shred days throughout Ogle and Winnebago County. Since the event's debut in 2012, 47,000+ pounds of paper have been recycled during our shred days.
Stillman Bank Honored As The 2018 Illinois Bank Financial Literacy Award Recipient
Stillman Bank was honored to be chosen as the 2018 recipient of the Illinois Bank Financial Literacy Award. This award, presented by the Illinois Bankers Association, recognizes an Illinois Bank that provides critical training and key financial resources in a progressive and thorough manner to residents in their communities.

Pictured above is Linda Koch, Illinois Bankers Association President & CEO presenting Stillman Bank Senior Vice President Jim Coons with the Financial Literacy Award
Over 12,000 pounds of food collected for needy families!
Each year, the bank holds a Christmas Food Drive to benefit area families. Over 12,000 pounds of food has been collected since 2008. Food is donated to local food pantries. Thank you to all who have contributed!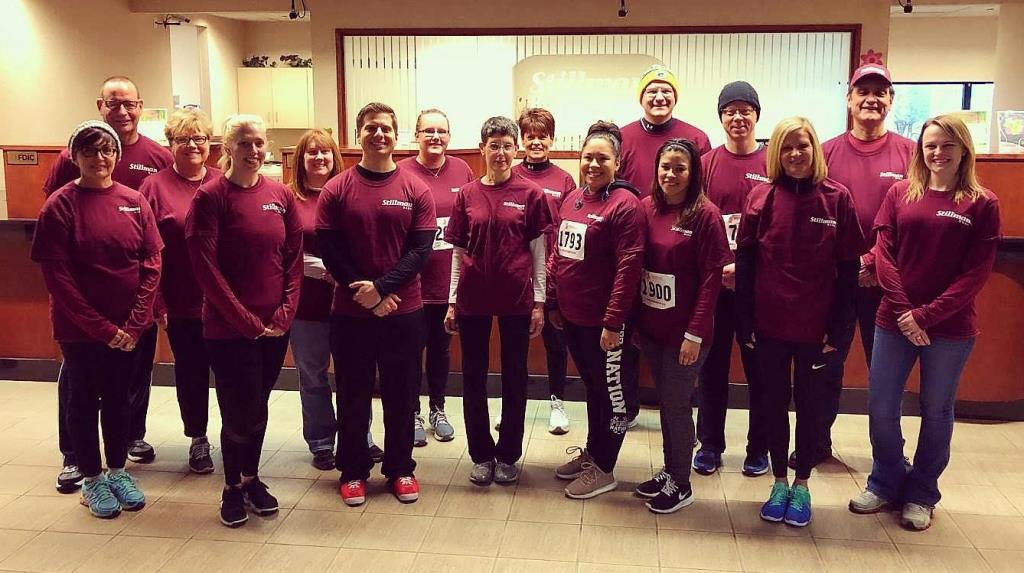 Bank Employees Run for a Good Cause
Stillman Bank is pleased to be a Silver Level sponsor for the annual Red Shoe Run for Donor Awareness in Rockford. For more information on the Red Shoe Run, visit redshoerun.org.
Bank Donates Tote Bags to Library's Summer Reading Program
Stillman Bank is pleased to donate 200 tote bags each year to participants in the Julia Hull Library's Summer Reading Program in Stillman Valley.
Bank Participates in RoRo Expo in Roscoe
Stillman Bank showcases its products and services each year at the RoRo Expo in Roscoe. David Oswald and Jean Hausvick are pictured at the bank's booth.
Purchase with a Purpose Debit Card Campaign
At the end of 2018/beginnigng of 2019, we held a "Purchase with a Purpose" Debit Card campaign in which a $1.00 donation was made to local charities with every Stillman Bank Debit Card transaction up to $20,000!

We were excited to be able to present checks for $2,000 to 10 non-profit organizations throughout the Rock River Valley!

For more information regarding this campaign and the non-profit organizations that we were able to support, visit Stillman 2 Cents | Purchase with a Purpose .
ByronFest Parade
Stillman Bank is proud to be a Festival level sponsor of ByronFest in Byron and participants of the parade. Check out our video from the 2019 ByronFest parade here: Stillman Bank | Summer Events 2019

For more information on ByronFest, visit byronfest.org .